This website is dedicated to the memory of my two dear friends Sandy Duncan and Shyama Peebles who both passed away in 2012.
Cemeteries > Kunanalling Cemetery
---
Cemetery Reserve 4271 (In a creek about 3km SW of town site)
BURNELL George — d 19 Jan 1901, age 77yrs, at Salisbury St, Kunanalling, Cause believed to be old age, Father: George BURNELL, Born Bristol, England, In VIC 46yrs, In WA 6yrs, Married to Louisa Harriet DAVIS on 31 Mar 1853 in London England, Children: Henry Wooles b 1854, Mary Anne b 1856, George Wooles b 1857, Mary Louisa Wooles b 1859, Edward Wooles b 1861, Thomas Davis b 1863, John Thomas b 1865, John Wooles b 1870, Reg Coolgardie 16/1901, Buried in the Kunanalling Cemetery.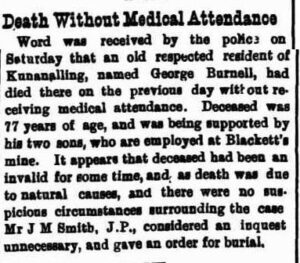 Coolgardie Miner 21 January 1901, page 4
ERSKINE unnamed male — d 27 Jul 1905 stillborn, Cause: Premature birth, Father: Ebenezer James Alexander ERSKINE (Miner), Mother; Maria HAYMAN, Reg Coolgardie 49/1905, Buried in the Kunanalling Cemetery.
ERSKINE Maria — d1 Aug 1905 age 30yrs, at Kunanalling, Married woman, Cause: Post partum sepsis, pulmonary congestion, Father: William HAYMAN (Shipwright), Mother: Not known, Born: Perth WA, Married to Ebenezer James Alexander ERSKINE in Perth at age 27yrs, Children: Muriel 1yr, 1 male deceased, Reg Coolgardie 51/1905 , Buried in the Kunanalling Cemetery with her still born son.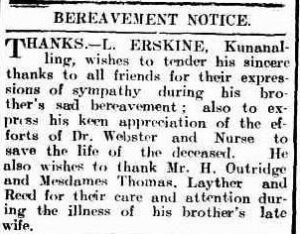 Coolgardie Miner Monday 7 August 1905
HOLTFRETER William John Frederick — d 1 Jul 1902 age 12 months, at Associated GM Kunanalling, Cause Marasmus, Father: Wilhelm Johann Friedrich HOLTFRETER (Blacksmith), Mother: Elizabeth Mildred SNADEN, Born Coolgardie WA, Registered by P Walker (Friend of the parents), Reg Coolgardie 65/1902, Buried in the Kunanalling Cemetery.
MATTHEWS Thomas — d. 26 Mar 1901, age 53yrs, at town lot 26, Kunanalling, Cause: That on the 26th March 1901 he met his death committed by his own hand by hanging, Verdict of the Coroner, Born: Tasmania, In VIC 46yrs, In WA 5 mths, Single, Reg Coolgardie 30/1901, Buried in the Kunanalling Cemetery.

Daily News - Perth - 27 March 1901, page 3[/caption]
WARD Annie — d. 4 Mar 1899 age 1 month, at Premier Lease Kunanalling, Cause, Premature Birth, Marasmus, Father: David WARD (Miner), Mother: Mary McCORMACK, Born Kunanalling WA, Registered by James RYAN (Friend), Reg Coolgardie 44/1899, Buried in the Kunanalling Cemetery.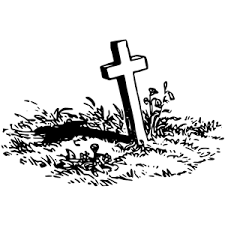 ---
---