This website is dedicated to the memory of my two dear friends Sandy Duncan and Shyama Peebles who both passed away in 2012.
Cue > Milly Soak Graves
---
Thanks to John Pritchard for the original idea for this story: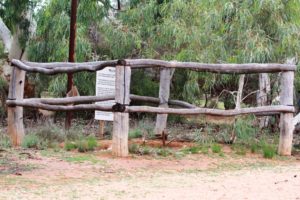 A grave at Milly Soak[/caption]
Milly/Millie Soak is 16 kilometers north of Cue and was a popular picnic spot in Cue's early history. It also became the source of the town's water for a number of years following the pollution of the town water supply due to poor sanitary practices. During the early 1900's typhoid swept through the goldfields killing large numbers of people especially Aboriginal people who were less resistant to the imported diseases.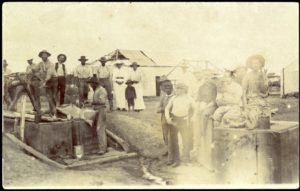 Main Street, Cue with Marshalls Hotel in background, and well in street, c1892[/caption]
A tent hospital was set up near Milly Soak and the three lonely nearby graves are a testament to the many deaths that occurred as a result of the typhoid epidemic. Access to the site has been upgraded and visitors are asked to ensure gates are left as they are found.
Milly Soak Burials Reserve 366582 Kyarra Location on Nalla Station near Cue
George HAMERSLEY died 1893, age unknown a prospector who died of fever. He may have been the athletic half-caste Aboriginal man who won most of the event s at a sports meeting, referred to in James Edward Tregurtha's diary. Apparently three young men were making for Peak Hill, when one of them came down with typhoid fever. They returned to Milly Soak where they all caught it.
George HARDY, died 1892 aged 23yrs,from New South Wales, a miner who died of typhoid fever, Born c 1870. George Hardy was the first victim of the violent epidemic that swept over the mining camps of Cue. he was a young ex-journalist (better known to the pressmen as the 'Raven).
??? HARRIS, died 1893, age unknown. a miner who died of fever.
For Harris, Hardy Hamersley
who died of fever in '93
the gold trail ended here
in flowering yellow cassia
by sandalwood and flood gum
miles north of Cue
In the hot and breathless bush
a Crested Bellbird mutes its call;
Ravens eye the stony ground
where fate and fortune hid.
To the 'Queen of the Murchison"
three young diggers came
and were by her betrayed.
by Diane Beckingham
Ref: Old Coach Road from Cue and Beyond
An old aboriginal man once said "No camp longa Milly Soak". When asked why, he said "too many picaninny noises night time". An old prospector agreed with this when he camped there for only one night, he did not get a wink of sleep. The whispering noises kept whispering to him all night long~ ~ ~

The Graves at Milly Soak - by D Beckingham[/caption]
---
---