This website is dedicated to the memory of my two dear friends Sandy Duncan and Shyama Peebles who both passed away in 2012.
Cue > First Cue Cemetery
---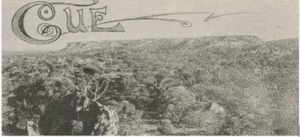 (Mount Murchison in 1897)
Cue (including Day Dawn) Cemeteries
A Brief History and List of Those Persons Known to be Laying At Rest There.
(Caution-This document contains names of deceased Aboriginal/Australian First Nations Peoples)
Australian First Nations Peoples.
For many years prior to European settlement, these people and their ancestors occupied that part of Western Australia currently generally known as the Murchison Region according to the traditions, culture, and practices of their times. Whilst no precise borders are recorded, it is known that this area was occupied by those who spoke various languages including Badimaya, Kalaamaya, Kuwarra, Nana, Tjupany, and Wangkatha (Wangai) at the time of settlement. They have continued to practice those cultures, practices, and traditions after settlement according to their situation where possible.
These early traditions and practices included the ceremonial treatment of their deceased, the recording of those events in the traditional memorials of the time, and the memories of the individuals and groups involved. Following the settlement, WA State legislation made it a requirement for deceased people to be placed in more formal cemeteries, although this did not always happen for varying reasons for deceased people of both Aboriginal/First Nations and some other racial groups.
The Early Days of Exploration of the Murchison and the establishment of the town of Cue.
Indications of the presence of gold were first discovered at a number of locations in the Murchison Region of Western Australia from around the year 1890 after earlier limited discoveries in the Kimberley and Pilbara regions. The first recorded discovery in the Murchison was made by John Connelly on the northeast end of Annean Station towards Meekatharra.
By May 1892, reports were being received that some of the men in this area were almost starving for a short time due to the inability of relief supplies and water to reach them. By September of the same year, there were reportedly an estimated 300 to 400 men working in the area. Some deaths did occur over time in this local area, primarily due to lack of water and/or poor hygiene conditions.
Whilst there is some uncertainty as to who made the first gold find in the area, Michael Fitzgerald and Edward Heffernan are reported by Wikipedia as having collected some 260 ounces of gold there after being given a nugget by an Aboriginal/First Nations person known as "Governor". Mr. Tom Cue then traveled to Nannine to register the claim for the site which was located some 620 km northeast of Perth and it then become known unofficially as Cue's Rush. The Cue townsite was later gazetted in 1893 and was named after Mr. Tom Cue.
It is unclear where any deceased people were laid to rest between 1890 and 1894 at what later became the town of Cue as little specific detail of these deaths exists for that period. This is because the Town of Cue was not gazetted until later in that period. However, some are known to lay at rest in/around the area which later became the original cemetery. The passing of the following people was however mentioned in newspapers of the times as passing away in Cue's Rush as shown below.
Three deaths from typhoid fever at Cue were reported for the month in late June 1892 but no names were provided. (Page 3 of The Australian Advertiser 27 June 1892).
Five deaths from typhoid fever were reported at Cue for the month in late October 1892 but no names were provided. (Page 29 of the Western Mail 29 October 1892).
Mr Labat from Lake Austin died in Cue in late August 1892 due to typhoid fever, he thought he could shrug off the disease but left it too late for medical help to make a difference. He was a commercial traveller turned prospector who came from Sydney NSW where his mother and sister lived. He was not one of the successful prize drawers at Cue and had a hard time with it. (Page 3 of The Geraldton Murchison Telegraph 26 August 1892).
On 22 September 1892, P Hogan who was travelling with teamster Murphy was accidentally shot and killed by Daniel Rainbow who was travelling with them. (Page 22 of the Western Mail 28 October 1892).
On 22 September 1892, Sam Kidd, 47 yrs who arrived from Victoria about 6 mths beforehand committed suicide at Cue due to monetary difficulties revealed at the inquest into his death. (Page 29 of the Western Mail 29 October 1892). (Reg 854/1893).
In December 1893, James Bloomfield was reported as having passed away at Cue where he had been for about 7 months and his occupation was as a mining captain/engineer in most mining areas in Australia, he had been living in the Eastern States of Australia for over 30 years, he was 54 yrs of age and was born in Yarmouth England. (Page 2 of the Geraldton Murchison Telegraph 5 December 1893). Reg 563/1892
WYNNE William Watkin — 33 yrs, died in the Cue area in early October 1893 due to pneumonia/chest complaint, he was the Brother of Hon Agar Wynne (Victorian Solicitor General) and a shareholder in the Day Dawn Reef. Reg 815/1893. (Page 4 Inquirer & Commercial News 13 October 1893).
During May/June 1894, various newspapers reported that many deaths had occurred due to typhoid on the Murchison Goldfield at Cue's Rush and mining sites close by such as Nannine, The Island, Dead Finish (Cuddingwarra), Four Mile, and Mainland so far during that year. These deaths mostly recorded in the WA State Register of Deaths included names such as Richard Amery (age 40), William Charles Barber (age 33), Thomas Blayney (age 30), Colloim (age unknown), Charles Douglas Curry (age 38), Sarah Annie Hare (age 75), Hastling (age unknown), Albert Charles Joy (age 23), James Pringle (age 19), William Slater (age 57), Oliver Andrew Soloman (age 35) and Waritt (age unknown) plus some others shown later in these pages. (page 4 Western Mail 5 May 1894, page 2 Geraldton Murchison Telegraph 18 May 1894, Page 3 Geraldton Advertiser 13 June 1894, and page 6 of The Western Mail 30 June 1894).
Mr J D Lamonte The cause of his death on 16 Nov 1894 was deemed to be due to typhoid fever despite his appearing to get better, he was born in the USA and was married. He was the operator of the Garden Gully and other mines around Cue (WA. Page 3 Western Mail 24 Nov 1894).
Creation of the Original Cue Cemetery. (located off the Cue-Wondinong road, near Cue Hill)
The original town cemetery near Cue Hill was established in late 1893 near what later became the Cue-Big Bell Railway (Austin Street) and official burials commenced there shortly afterward. The numbers of people who passed away increased due to the higher numbers of people living in the area then known as Cue's Rush plus others arriving from outlying areas seeking medical help, albeit sometimes a little too late. The current cemetery is located on Cemetery Road, south of town, just off the highway.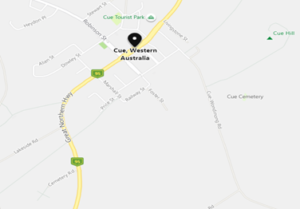 Remaining headstones at the Original Cue Cemetery.
Many of the original burials at Cue in this cemetery had markers made of wood and have disappeared owing to the ravages of time, termites, and the dry climate. The headstones which remain were made of more substantial materials are shown below.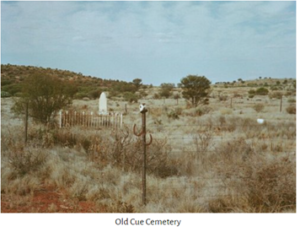 Old Cue Cemetery
MACCABE James — 34yrs, died 7 Jul 1893 at Cue WA from rheumatic fever, parents were Francis P and Jane MACCABE, (nee OSBORNE), Born 1859 Wollongong New South Wales, Reg 648/1893.


Illawarra Mercury - Woolongong 27 July 1893, page 3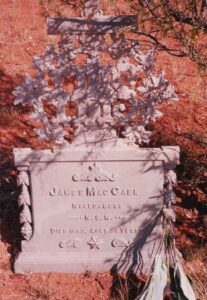 James MacCabe
PENBERTHY Charles — 39 yrs, d 22 March 1894 in the premature detonation of explosives in the New Years Gift Mine at Cue, WA, he was one of three brothers at the mine. Reg Murchison 247/1894. Mine death -www.wavmm.com
ROBOTHAM Charlie L — 23 yrs, died 5 April 1894, only son of the late Robert ROBOTHAM of the Nile, Tasmania, died from typhoid fever. Reg Murchison 442/1894
Shifting of some graves from the Original Cemetery to the Current Cemetery at Cue.
In November 1898, the graves of the following persons were shifted from their original sites in the old cemetery and re-interred in what is now the current Cue/Day Dawn cemetery to facilitate work for the local railway system. The limited information known of these people is detailed below from regional newspapers during that month.
HOGAN P — (Big Scotty AKA Scotty the Liar, AKA The Curley Headed Englishman). Accidentally shot by Daniel Rainbow in 1892. Reg (no reg found).
JACKSON Alf — Reg (no reg found).
JUSTICE John — a youth, Reg (no reg found).
LAMB Charles — Buried in his blankets 9 May 1892, he was the first known typhoid death in Cue and was from Victoria. Reg (no reg found).
MCLOUGHLAN Andy — Reg (no reg found).
MORGAN Ned — (AKA Democratic Morgan), he died in Cue during October 1892 due to typhoid fever, Reg (no reg found).
PAYNE Charles — 32 yrs, died in Cue due suicide 1897. Reg 7/1897.
POWER William — 23yrs, he was from a location nearby known as The Island and died in Cue in October 1897 due typhoid fever. Reg 2022/1897.
PRENDERGAST Jack — (Excelsior Hotel Keeper at Champion Bay), he died Cue in June 1892 due to typhoid fever. Reg (no reg found). Victorian Express, Geraldton - 17 June 1892, page 3).
THE NANNINE GOLDFIELD - The Warden has returned to the camp after a three weeks trip to the outlying diggings. Bad news comes from Cue. The fever fiend has been around. I am truly sorry to note the death of poor Jack Prendergast, the genial host of the Excelsior Hotel. He was universally esteemed, and the news of his death will be received with sincere regret in the Champion Bay district. His brother, Charlie, was also prostrated, but has, fortunately, made a recovery.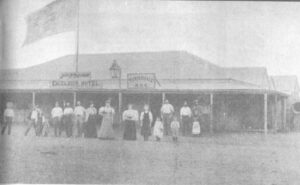 Excelsior Hotel Cue[/caption]
While on the unpleasant subject of this death, I have to chronicle, with sorrow, the fact that Jack Prendergast was buried without even a whisky case coffin.
Sown up in an old rag!
the poor fellow was deposited in his last resting place on the Nannine Flats. It seems that this field boasts of but three carpenters. On this occasion, the usual requisition was made for a coffin. One carpenter was ill, one was away, and the third whose name is hereby duly immortalised — Thomas Jackson, either could not or would not make it. I lay the blame on no one, but facts are proverbially stubborn, and the fact remains, that this poor human remains, were shoved into the mullock heap, without the customary casing. Of the burials, witnessed by me, this is truly unique.
RAINBOW Daniel — 46yrs, died Day Dawn due to natural causes 04/09/1894. Reg 872/1894. The Murchison Times and Day Dawn Gazette 05 September 1894, page 3 states.SUDDEN DEATH OF A DRYBLOWER
REDUCED TO A PENNY AND A STAMP
VERDICT - NATURAL CAUSES.
An inquest was held yesterday at Day Dawn before Warden Dowley and a jury of three, concerning the death of a miner named Daniel Rainbow, who was found dead beside his fire early the same morning. Will Streeter, whose evidence was corroborated by Charles Shires, was deposed to find the body of the deceased soon after 6 a.m. of that day. It was lying on its face, which was much discoloured. He had last seen deceased about 7 p.m. the day previous, when he seemed sober and in good spirits. The deceased had previously complained of pains in the back of the head. Dr Monteith said he had examined the body of the deceased and found no marks of violence. He must have died very suddenly. Death seemed to have been caused by his head striking the ground, thereby producing rupture of a blood vessel in the brain, and probably rupture of brain substance, producing traumatic apoplexy.
He considered it was a case of death from natural causes. The jury found a verdict in accordance with the medical evidence. Deceased, who was an undersized man, 5 feet 4 inches, with a heavy brown mustache and goatee, is supposed to have come from somewhere near Wilcnnnia, N.S.W. The poor fellow was a dry blower, but evidently had met with no luck, as he had only a penny and a postage stamp, a pipe, and some matches. As we would like to communicate with his relations, any of his old mates will oblige by sending us any particulars, in reference to his antecedents, which will be promptly attended to.
We have been informed that Rainbow accidentally shot a teamster named Hogan on the Murchison-Cue road, two years ago. The pair were fooling with a gun they thought it was not loaded—usual result! Hogan was shot through the heart and fell dead. Verdict—accidental death in this case.
Remaining known burials at the original Cue Cemetery (reported in newspapers in 1908 as about 30 known with 8 monuments at that time).
BROWN William — 68 yrs, he passed away in late March 1895 at Cue Hospital due to heart disease, His occupation was that of the Cue Bellman. Reg 342/1895.
CALLAGHAN Francis — 56yrs, he passed away on 19 July1895 and was found dead in his tent at Cue, the cause of his death was deemed to be loss of blood due to breaking a blood vessel leading to suffocation, he had also been treated for lung disease some 9 months earlier and had cause to visit Sydney Hospital during a recent visit there, he caught a cold during the trip home. Reg 988/1895.
CATT Charles — 33 yrs, Section unknown, Loc – in the cemetery but site not specified, bur 26 Feb 1898, he was born in Sussex England, the cause of his death at a hotel in Cue WA was deemed to be exhaustion caused by enteric fever, his occupation was that of a miner at Peak Hill. Reg 1515/1898.
CLOHESY John — 55 yrs, he passed away at Cue on C28 April 1894 due to typhoid fever and came from Stalwell in Vic. Reg 308/1894.
COWAN William Thomas — 25 years, he passed away in Cue Hospital April 1895 due to typhoid fever, he was the Brother of Dr. Cowan of the Melbourne Ear and Eye Hospital in Melbourne, his occupation was that of an engineer on the Star of the East Mine. Reg 556/1895.
CRACKNELL Frederick — 24 yrs, he passed away on 26 March 1894 at the Four Mile, (near Cue). Reg 307/1894.
GRACE Agnes — 24 yrs, Loc – in the cemetery but site not specified, bur Jun 1895, she was the Wife of the Cue Schoolmaster and the cause of her death was deemed to be typhoid fever. Reg 785/1895.
HAMMOND Thomas — 35 yrs, he passed away at Cue Hospital on 4 June 1895 following an earlier accident when a windlass gave way and he plus the barrel fell down the shaft at the Light of Asia Mine near Cue WA. Reg 882/1895.
Mine death www.wavmm.com
HANSEN Christian — age unknown, he was born in Sweden and died at Cue in late August 1895 following a fall of stone in the Lady Emily Mine which is situated about 2 miles from Cue WA, a large amount of material had to be removed before he could be extricated but was found to be deceased, whilst a large amount of earth bruised his back seriously the cause of his death was deemed to be suffocation. Reg 1269/1895. Mine death www.wavmm.com
HARFORD Martin Joseph Bonaventure — 5 yrs, he died at Cue in 1894 at the Trenton Mine Bundawarra. He was born in Donnybrook, WA in 1888, his parents were David and Susan Anne Laura Harford (nee Wise). Reg 632/1894.
HICKS John — 21 yrs, he came from the Geelong district of Victoria and passed away in Cue WA late in August 1895 due to typhoid fever. Reg 1281/1896.
HODSON George — 30 yrs, he passed away in Cue Hospital in April 1895 due to typhoid fever. Reg 557/1895.


George Hodson - Ancestry.com
HUMPHRIES David — 23 yrs, his body was found on Cue Street but had been complaining about feeling ill several days earlier in late November 1894, the cause of his death was deemed to be suffocation caused by the injection of food into his larynx. Reg 961/1894.
MACCABE James — 35 yrs, he passed away at Cue on 7 Jul 1893 from rheumatic fever, his Parents were Francis P and Jane MacCabe (nee Osborne) and was born in 1859 at Wollongong, NSW. Reg 648/1893. (see Headstone photo in Section D)
MACNEIL Richard — 28 yrs, he passed away at Cue on 02 April 1894 due to typhoid fever, he was the brother of Alex McNeil and the third son of Mrs. MacNeil of Fremantle. Reg 440/1894.
MCNEILL Robert — 14 days, his parents were Robert and Sarah McNeill (nee Warnhurst), he was born at Canning Mills, WA. Reg 2503/1897
MCPHERSON C A E . Reg (no reg found).
MEYER Carl — 31 yrs, he passed away in late July 1895 and was found dead in his camp laying on his back, it was deemed that he died from heart failure due to blood clots, he was employed as the local Cue Sanitary Inspector. Reg 1166/1895. (shown seated in photo below).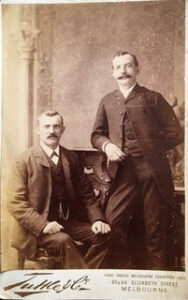 Carl Meyer (left) - Ancestry.com
MOUNTJOY George — 36 yrs, Loc in the cemetery but site not specified, bur Dec 1895, he was born in Cheltenham England, he was reported missing by a friend who last saw him leaving his camp near Cue WA to go to his workplace a short distance away and was not carrying any water, the Police conducted a five day search and eventually found his clothed body with his woodcutting axe which he had dragged the whole time some 10 miles southeast of Cue after having covered about 120 miles in random directions, the cause of his death was later deemed by an inquest at Cue to have been excessive heat and the want of water, he had also previously been lost requiring Police rescue at Yalgoo WA, his occupation was that of a woodcutter but had previously been an engine driver in North Dakota USA. Reg 1548/1895. Most likely buried at Cue Cemetery but not confirmed.
OGRADY Jane — 50 yrs, Reg 739/1894.
PAGE William — 35 yrs, he passed away on 22 Jan 1895 due to a self-inflicted gunshot to his head at Millie Soak after only having just been discharged from the Cue Hospital. He had earlier been arrested by the Police at Mt Gould in December 1894 following eccentric actions there, it was suspected that he may be of unsound mind and was remanded to Cue Hospital for treatment. Following normal behaviour whilst in the hospital during which he was observed, about a month later was discharged and he proceeded to Milly Soak to water his horses. An inquest at Cue later determined that his act had been committed during a period of temporary insanity. Reg 61/1895.
PARKER John Watson — 50 yrs. Reg 1034/1896.
PENBERTHY Charles — 39 yrs, died 22 March 1894 in the premature detonation of explosives in the New Years Gift Mine at Cue, WA, he was part of Heffernan's party when gold was first discovered at Cue. Reg 247/1894.
Mine death - www.wavmm.com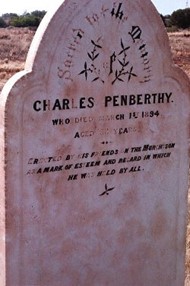 Charles Penberthy
PEARCE Charles J aka "Cousin Jack of The Island" — 46 yrs, the cause of his death was pneumonia and he was one of the original prospectors at around The Island plus the Murchison and North West of WA. Reg 473/1896.
PIRSANT John — 67 yrs, passed away in Cue WA on 30 April 1895 due to dysentery and the general breakdown of his constitution. Reg (no reg found).
ROWBOTHAM Charles L — 23 yrs, d 5 April 1894 due to typhoid fever and was the only son of the late Robert Robotham of the Nile, Tasmania. Reg 442/1894.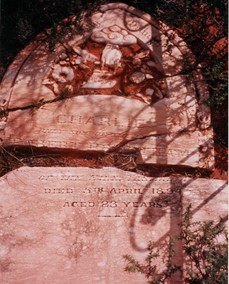 Charles Rowbotham
RUSSELL Charles R — 24 yrs, Reg 446/1894.
SAUNDERS William — 40 yrs, he passed away in Day Dawn in early October 1894 due to accidental suffocation from food, he had only recently arrived at Day Dawn, his wife and child were living in NSW and he was planning to return there. Reg 877/1894.
STACK Charles Phillip — 21 yrs, it is not specifically known what the cause of his death was but it is known that the two local hospitals at Cue had 40 cases of typhoid fever in their care as at the start of April 1895 around the time of his passing, deaths at that time were reported as a number rather than by names in some newspapers. Reg 186/1895.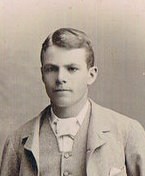 Charles P Stack - Ancestry.com
WASHINGTON James (aka George)— 65 yrs, he passed away in late April 1895 in Cue as a victim of typhoid fever. Perhaps he was unsuited to life on the goldfields owing to his lack of stature and age. He was a person of Negro heritage from the USA and was fondly referred to locally in Cue as George Washington. He participated in the 1888 Melbourne Centennial Exhibition in uniform as the aide de camp to the Executive Commissioner of USA display at the exhibition. After leaving Melbourne, he invested in real estate but investment then fell on hard times. Down on his luck, he sought to reach Cue to meet a friend there but ran out of funds by the time he arrived in Mullewa. Later, he received a lift to Cue on one of the teams going that way and stayed in Cue for about 6 months, assisted by the local community before passing away. Reg 377/1895.
WILLIAMS John — 22 yrs, he passed away in Cue 9 May 1895 due to typhoid fever, he arrived in WA from Bendigo VIC. Reg 778/1895.
WYNNE Charles — 48 yrs, he passed away in Cue during 1897. Reg 1401/1897

---
---